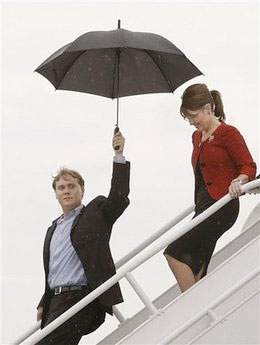 You may recall that nearly five years ago (!)
I posted
the above picture of La Palin, accompanied by a headline which read
What's So Great About Being Nominated for the Vice Presidency? Having Somebody Hold Your Umbrella for You, for One Thing.
So have Sarah Palin's attitudes about umbrellas changed over the last few years? Evidently so:
Scandalous Hat TrickMr. President, when it rains it pours, but most Americans hold their own umbrellas. Today in... fb.me/zAZryzjj
— Sarah Palin (@SarahPalinUSA) May 17, 2013
Well, duh, if Obama can "evolve" on gay marriage, can't Sarah Palin evolve on umbrella use?